---
Black Bone Nation Interview
Do you like Pina colada, hard rock, and flame throwing guitar solo? Then we have the band for you: Black Bone Nation a hard rock 4 piece from straight outa Cape Town. The band formed back in 2015 and are getting ready to release their second studio album. Earlier this year we caught up with the Zakk and the guys.
Last year, Black Bone Nation won Banks Radio Australia 's single of the year. Congrats!
Zakk: Thank you. It was a huge honour, and actually a shock because the band was only going for just about over a year when the news hit us.
The internet has made the world musicians playground. Thanks to sites like SoundCloud and Youtube listeners now have borderless access to music. What has been your favourite internet moment as a band?
Zakk: The internet is a crazy place, you always have to be kind of politically correct we found, but we are a rock n roll band, so we err on the side of not following the rules. But it is always fun to see how people react to the rock n roll thing when we push the limits a bit. The internet has given us huge access to the world, and our biggest fan-bases are actually based in Australia and Europe.
You've started working on your second studio album (to be released end of 2018), What can we expect?
Zakk: We pushed out the date to 2019 due to an influx of gigs and festivals that we are playing, but luckily we have the songs ready to go for the album. This time around we wanted to create an album with the same rock n roll feel as the first, but add more songs to it. We will definably be putting around 10 or 12 songs on the album depending on how they all mix together. Expect one or two softer ballad type songs as well 😉 Get out there and grab the current self-titled EP "Black Bone Nation" at any online store to shake your ass too!
What has been your favourite on-stage moment thus far?
Leroux: Every gig is a blast for us. If you aren't having fun playing live, you shouldn't be doing it…
If Black Bone Nation was a shot what would you guys be?
Henri: A whiskey shot. Definitely. Hmmm maybe called Black Bone? Isn't there like a beer named that already haha ?
You've been known to use pyrotechnics while on stage. Mad Max kind of shit!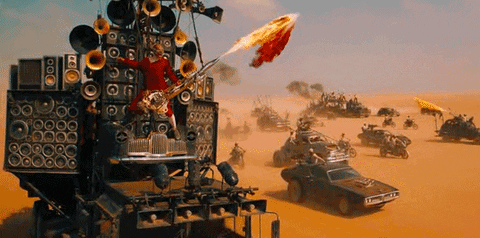 Absolutely mal. How on earth do you make a guitar blow flames whilst playing and trying not to light yourself on fire?
Zakk: Haha it's always fun doing crazy stuff like that. I am a HUGE fan of blowing things up and doing anything crazy and unique with gear. So I came up with the idea while having my last birthday bash at a Mexican restaurant and they brought out the cake with this huge fountain candle. I thought.."hmmm just pop that bad boy on the headstock of the guitar and we are good to go"… we are currently working on some more crazy stuff in the background. We firmly believe that if someone paid to be at your show, you better give them a damn good show!
If you could share the line up with any band living or dead who would it be?
Brendan: We all have a vastly different range of music and artists that we love. So let's make it a mash-up of Slash, Sebastian Bach, Sam Rivers, Danny Carey and for good measure, the legend Jimi Hendrix!
If you could tour any country in the world where would it be?
Leroux: Definitely Europe. The rock scene is so vibrant over there, and the opportunities are everywhere. Our biggest fan-base is over there as well. We might have something in the works for 2019…but shhhh…it's a secret.
.
If the good people want to get in touch and find out some more on the Black Bone Nation where should they go?
Zakk: Easy. Just drop us a mail at info@blackbonenation.com or visit any of our social media pages and send us a message. "Your call is important to us and a friendly operator will assist you soon"
Recommended Posts
March 20, 2020
March 10, 2020